"Our shop is the heartbeat of the village"
Plans for Islip's very successful Community Shop were drawn up after the long-standing Village Store closed at the end of May 2000, following Chris & Janet Busby's retirement.
The fundamental refurbishment of the Village Hall in that year provided an opportunity to replace Busby's Stores with a Community Shop, which subsequently opened on October 14th, 2000. Because of overwhelming demand, the shop was extended in December 2005.
In 2010, the shop celebrated its 10th birthday with a party – read the Oxford Mail article here and in 2015, its 15th birthday with more celebrations – see here for Oxford Mail article and here for That's Oxford TV coverage.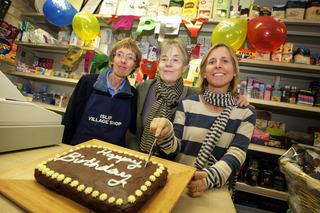 The shop is non-profit making and staffed entirely by volunteers. All profits are invested back into the community, with donations made to the local school, Village Hall, local sports clubs, and other local good causes.
Volunteers are always welcome. Meet new people & save 10% on your shopping when working in the shop! Contact Chris Cook, our volunteers co-ordinator, if you're interested, and she'll arrange a time to train you.
Save petrol and keep fit by walking to and supporting your village shop!